System for monitoring public lighting remotely and developing energy efficiency plans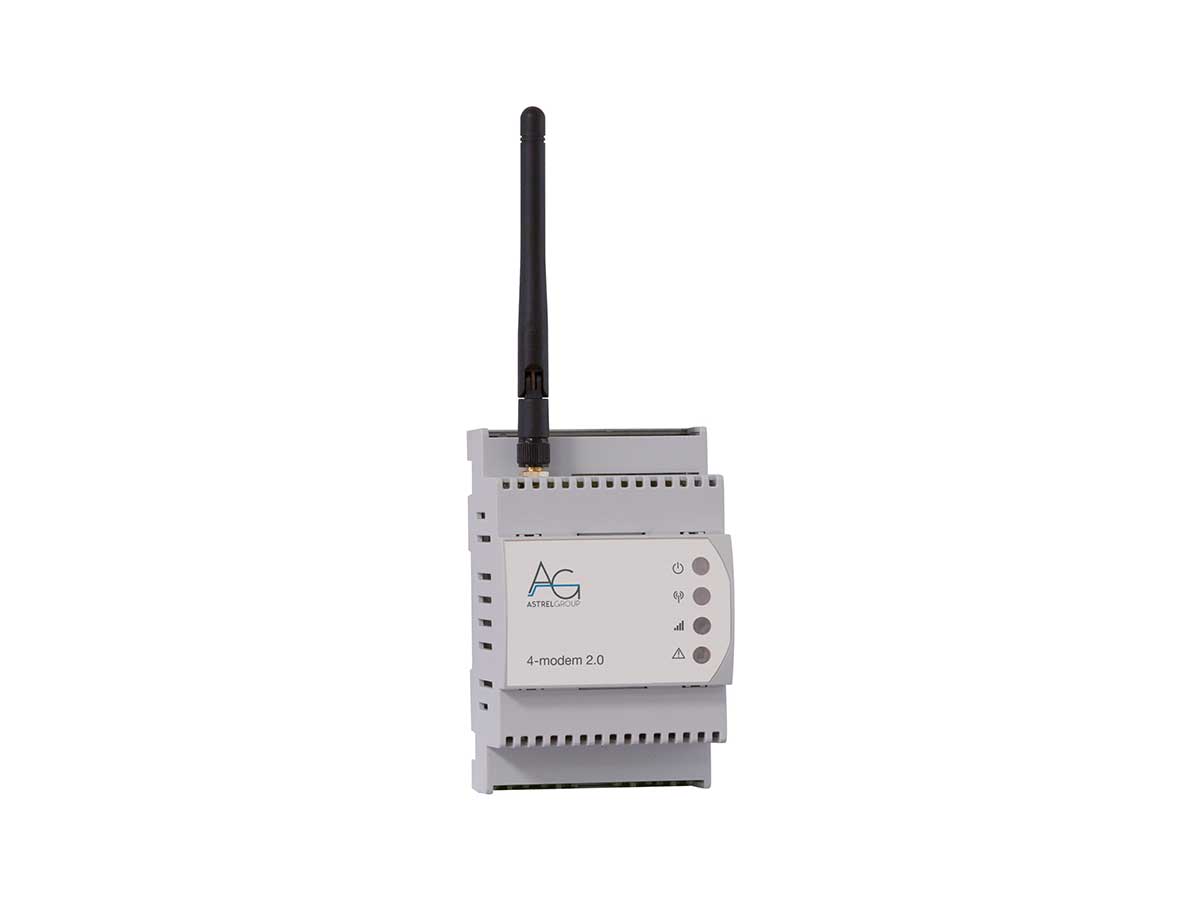 Main technical specifications
Public lighting control over the 4-cloud web portal
Energy efficiency optimisation thanks to the built-in astronomical clock
Integrated management of two lighting lines
Energy monitoring directly from the mains meter
Independent from the type of the bulbs used
Equipped with auxiliary digital input for sending alarm notifications via email
Alarms notifications via email in case of data transmission failure, aux contact closure (for example eventual open door of the electrical box), power threshold exceeding (customisable parameter)
Data acquisition settings can be customised via software (free configuration tool for PC)
Intenet connection via SIM card (can be supplied by Astrel Group upon request)
4-cloud portal: energy consumption analysis and programming
Multi-user and multi-system management
Easy programming of each device
Customisable operation of lighting lines according to an astronomical clock
Data viewed in graphic mode
Data downloadable in Excel format to allow further analysis and reporting
Applications
Public street lighting monitoring for energy efficiency optimisation
Control of anomalous energy consumptions in public street lighting
Description
4-modem Lighting 2.0 monitors public lighting lines remotely from the 4-cloud web portal and manages their operation according to a customisable schedule or a built-in astronomical clock.
The GRPS connection with onboard SIM card allows the device to access the internet and to transmit all data to the 4-cloud portal.
The operation of lighting lines is carried out by two output relays, which can be programmed over the 4-cloud web portal. An optical or S0 standard interface reads energy consumptions directly from the mains meter and sends it to the 4-cloud portal. Energy managers can thus monitor energy consumptions constantly and enhance energy efficiency or timely maintenance plans.
Furthermore, the two independent relays allow developing simple energy-saving strategies such as switching on just part of the streetlamps when traffic is low.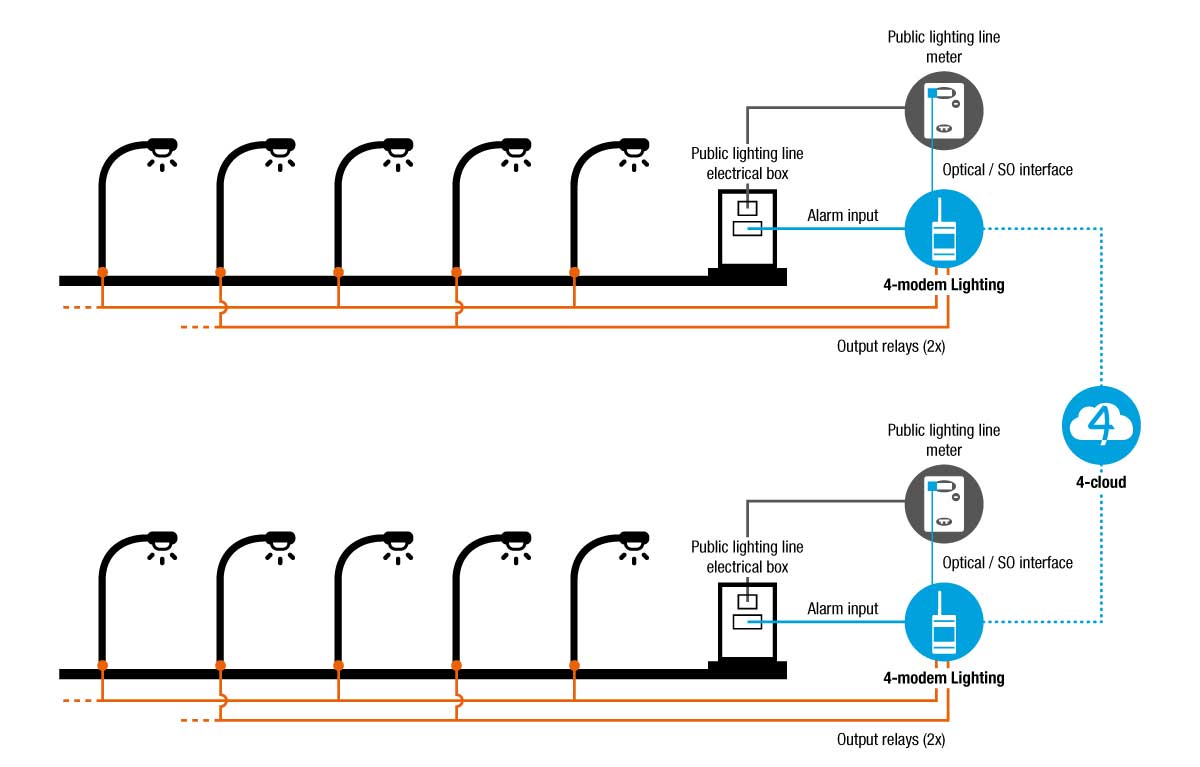 General specifications
Electronic device equipped with GRPS connection for monitoring and managing public lighting lines
Radio specifications
GPRS: Quad Band 850/900/1800/1900 MHz
GPRS multi-slot class 12/10/8
GPRS mobile station class B
Compatible with class 4 GSM (2 W @ 850/900 MHz); Class 1 (1 W @ 1800/1900 MHz)
Antenna
External antenna on SMA screw connector for data transmission via GPRS; cable length = 150 cm
Power supply
Two power supply options: IN1 > 5/12 Vdc 1 A;
IN2 > 230 Vac (±10%) 0.2 A 50 Hz
Status display
4x indicator LEDs
Data transmission
Sampling interval every 15 minutes; data transmission every 60 minutes; alarm notifications via email: aux contact closure, power threshold exceeding
Internal memory
In case of no GRPS connection, data log up to 15 days with default sampling interval every 15 minutes
Connections
Connector for SIM on the front side of the device
Screw terminals for power supply
Screw terminals for S0 signal input and alarm input
Screw terminals for output relays
Type B USB connector for PC
Inputs
1x alarm input NO dry voltage contact
1x S0 input for counting pulses, compatible with OPS2-S (optical interface for electric mains meter)
Control relays
2x N.O. / C / N. C. control terminals 10 A 250 Vac
Mounting
DIN rail
Ambient parameters
Operating conditions: 0 ÷ +40 °C; <80% U.R. n. c.
Storage conditions: -20 ÷ +70 °C; <80% U.R. n. c.
Degree of protection
IP20
Insulation
Class II
Certifications
Directives: 2014/35/EU; 2011/65/EU; 1999/519/EC; 2012/19/UE
Standard reference
Electromagnetic compatibility: EN 301 489-1 V2.2.0; Draft EN 301 489-52 V1.1.0
Safety: EN 62368-1:2014; EN 62311: 2008
Radio: EN 301 511 V12.5.1
Dimensions (L x H x D)
4-module DIN rail housing 72 x 110 x 60 mm
Weight
200 g