BlackBox – ZigBee Ethernet Modbus Gateway Print datasheet
Gateway for connecting ZigBee wireless device networks to Modbus TCP/IP networks connected to a PC / SCADA supervisor via Modbus protocol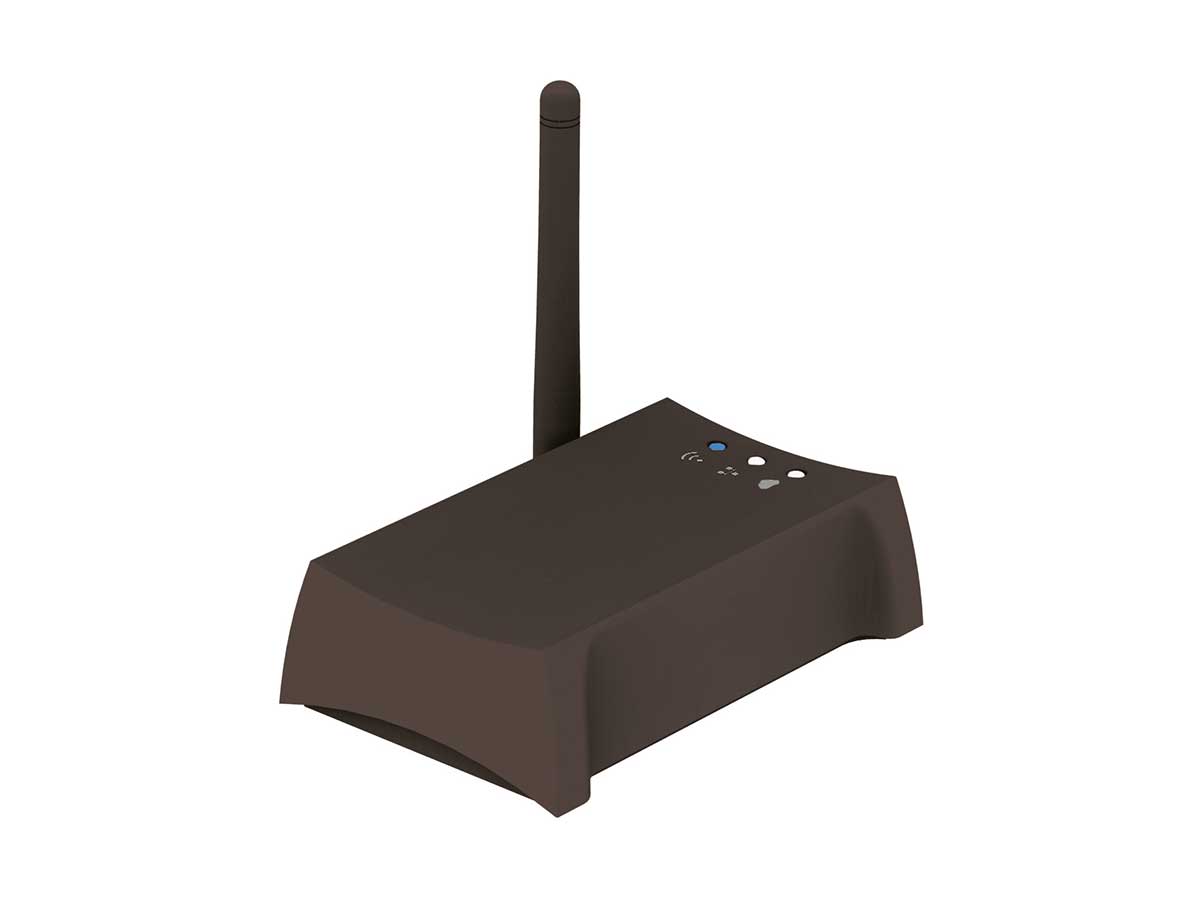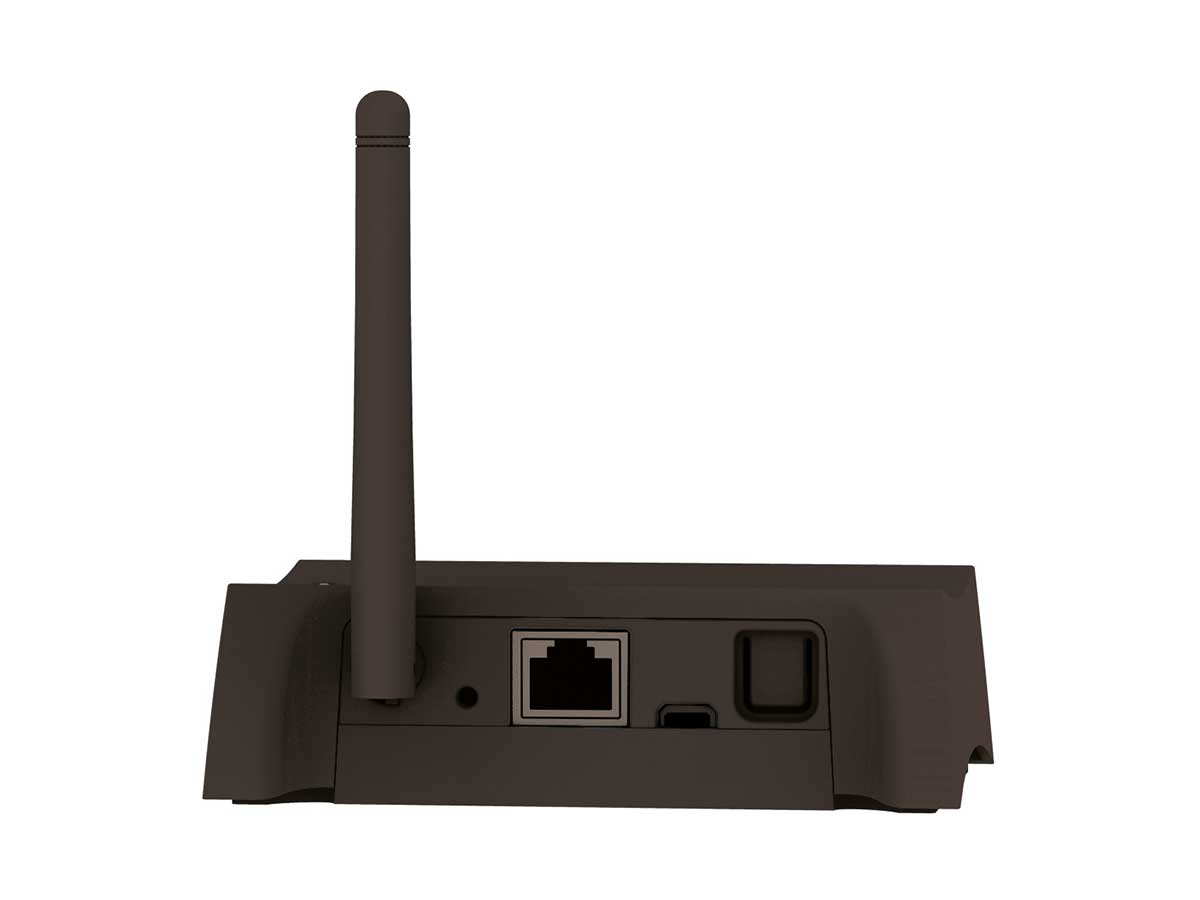 Main technical specifications
Gateway with Ethernet RJ45 communications port
Modbus TCP/IP to ZigBee Modbus protocol converter
Coordinator function within ZigBee networks
Standard Modbus TCP/IP interface
MicroUSB power supply
External antenna with SMA-RP connector
Provision for DIN rail installation
Dedicated IP configuration software
Can be used as replacement for Gateway code ZC-GW-ETH-EM
Applications
Building energy management systems
Building automation and industrial control systems
Description
BlackBox is a ZigBee Modbus gateway with an Ethernet connection, and is mainly used to route data from ZigBee sensors monitoring environment and energy parameters and to control electrical devices and/or signalling systems.
BlackBox connects ZigBee low energy wireless device networks (comprising sensors, actuators, pulse counters, etc.) to cabled networks via Modbus TCP/IP protocol.
The device also permits asynchronous data acquisition from network nodes and high efficiency transmission direct to the supervisor.
Modbus protocol gateways ensure the easy integration of ZigBee wireless devices with third party systems in civil, commercial and industrial energy management, energy saving and automation projects.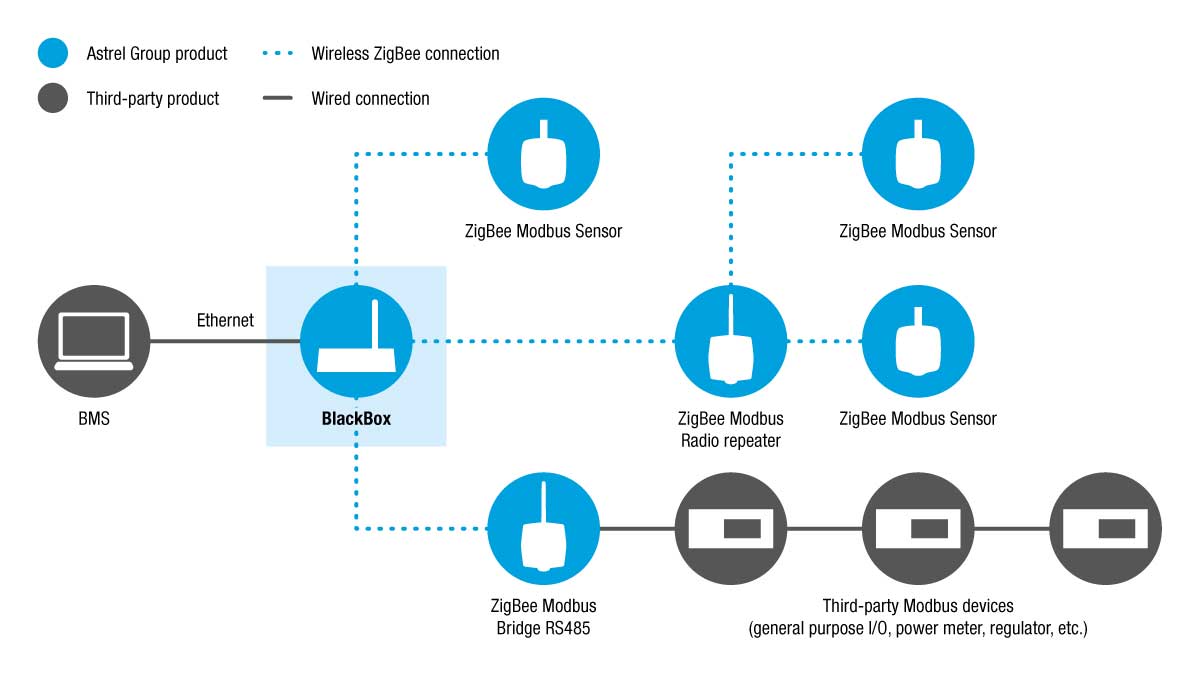 | Image | Code | Description |
| --- | --- | --- |
| | ZC-GW-BB-EM | BlackBox – ZigBee Modbus Gateway with Ethernet connection |
General specifications
Silicon Labs chip
Compatible with IEEE 802.15.4
Stack EmberZnet 6.4.1
Modbus / RTU
Radio specifications
Frequency: 2405 MHz to 2480 MHz
Modulation: DSSS
Nominal transmission power: 10 dBm
Receiver sensitivity -90 dBm
Antenna
External with 2 dB gain
Radio range: max 50 m outdoors
SMA-RP antenna connector
Power supply
5 Vdc; 0.4 A; 2 W (power supply included)
Status display
3x indicator LEDs
Connections
1x RJ45 Ethernet port
1x MicroUSB for power supply
Mounting
Provision for DIN rail
Ambient parameters
Operating conditions: -10 to +50 °C; <80% R.H. n. c.
Storage conditions: -20 to +70 °C; <80% R.H. n. c.
Degree of protection
IP20
Insulation
Class II
Conformity
EU Directives: 2014/35/EU; 2011/65/EU; 1999/519/EC; 2012/19/EU
Reference standards: ETSI EN 301 489-1 V1.9.2; ETSI EN 301 489-17; EN 61000-6-1; EN 61000-6-3
Safety: EN 62368-1:2014; EN 62479:2010
Dimensions (L x H x D)
110 x 35 x 70 mm
Weight
95 g